FAQ
Is Hungary a hunting paradise?
Yes and no.
Hungary is a hunting paradise for trophy hunters who bring the necessary money to hunt as guest hunters. As an emigrant, it becomes more difficult to establish a 'normal' hunting life as in the home country. The following article provides an overview about hunting in Hungary and the options for foreign hunters.
Hungary has rich hunting grounds in its approximately 1,400 hunting districts with an average size of 6,000 ha.
1
)
The interest of foreign hunters is aroused in particular by species that are no longer or only very rarely found in their home areas. These include in particular red deer, fallow deer, mouflon and small game, but also wild boar. Anyone who sees the trophies of the red deer or the display of the hares and pheasant hunts can already get into raptures.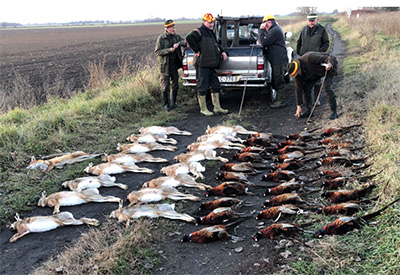 Game population in Hungary 2021 according to OVA (rounded)
2
) :
Deer 120,000
Fallow deer 40,000
Roe deer 380,000
Mouflon 12,000
Wild boar 65,000
Hare 85,000
Pheasant 625,000
Partridge 12,000
The face of hunting in Hungary has changed over the years.
While around 19,300 hunters were registered in Hungary in the 1960s, the number has more than tripled to 67,200 in 2021. This includes around 2,800 professional hunters and 3,400 female hunters.
3
),
5
)
During this period, there was also a trend in game hunted. While the focus in the 1960s to 1990s was on small game, with up to 50 animals shot per hunter at the peak, this has fallen sharply to today's level of around 10 animals. At the same time, the big game hunted, which in the 1960s to 1980s amounted to about 1-3 pieces per hunter, has now developed to 5-6 pieces per hunter.
3)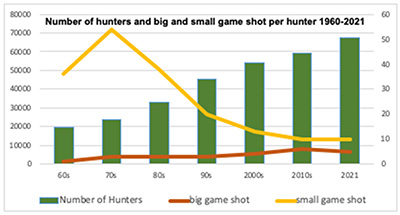 Hunting as a foreign hunter in Hungary, is that possible? Yes but.
Obtaining a hunting license in Hungary is likely to remain a utopia for most hunters. In addition to the 100-hour hunting course (about 150,000 HUF) and subsequent examination (20,000 HUF) as well as a psychological examination, a medical aptitude test and a certificate of good conduct, the language barrier is probably the biggest hurdle. All exams are held in Hungarian only. And getting to the language level within a reasonable period of time is hard to imagine.
4)
The option used by most hunters is in the form of an invitation hunt with a hunting license from their home country and a hunting license additionally purchased in Hungary.
And here foreigners are taken to the cleaners. According to the National Hunting Administration Database, 25,000-30,000 foreign hunters come every year, bringing the industry almost HUF 7 billion a year.
5)
The foreign hunters' hunger for trophies seems unbroken. It is also naturally expected of the hunting parties to be after large trophies, which, because they are calculated by weight, bring in considerably more sales than the shooting of a female animal. Meat hunters are just as unwelcome as hunters who are not interested in trophies.
A special feature in Hungary is the obligation to have trophies of red deer, fallow deer, roebuck, mouflon horns and wild boar weapons over 16 cm valued within 30 days of being shot.
And so, in the 2020/21 hunting year, 67,182 trophies were awarded, with 13,182 shot by foreign hunters, which was only about 50% of the normal amount due to the pandemic measures.
2)
There are numerous hunting trip providers who offer organized hunts with appropriate hunting societies or in state districts. For hunting travelers from EU countries, an invitation and the EU firearms pass are required to import hunting weapons. The import of handguns is not permitted.
Either the hunting tour operator or the hunting party can obtain a Hungarian hunting license for a fee. For this you need a passport, local hunting license, gun ownership card if necessary. Then it's off to the hunting ground with the professional hunter. The prices charged for hunting vary from provider to provider, sometimes with significant additional services that are often overpriced by Hungarian standards. On the other hand, there are some hunting societies that have very nice houses in Hungary, where you can still sit together after the hunt.
The lucky ones are those who have their own property in Hungary, are local and have very good friends in hunting societies who often take you along as guests or win the lottery: to be accepted into a hunting society. Acceptance into a hunting society is rather unlikely, since in most cases the places are 'inherited' or given to 'deserving fellow citizens'. There may be exceptions, but they are either in the area of individual cases or come about through corporate memberships for senior positions.
There are colleagues from a real estate agent in Hungary who will suggest a yearling wild boar for EUR 400, or your friendly craftsman who will take you to the local hunting club on a hare and pheasant hunt where the cost is a case of beer for afterwards. In Hungary there is almost everything, except for a normal hunter's life for foreign hunters who emigrate to Hungary.
It is almost impossible to roam alone through fields, to sit or to stalk through a hunting ground lease or paid annual agreements, since an accompaniment from the hunting party or from a professional hunter is always required.
Tip for emigrants with a house in Hungary: keep your home address, local hunting license and EU firearms pass and import hunting guns for temporary use. Everything else is almost impossible as a hunter. No Hungarian hunting license, no gun license in Hungary, therefore no gun ownership.
Data sources:
Hungarowild, 16.02.22
Országos Vadgazdálkodási Adattár Gödöllö, 2021
M. Korecz, Vadaász blog, 01.02.22
mfor.hu, 20.11.20
pénzcentrum, 14.11.21