FAQ
Do I need a residence card (Lakcímkártya) and how do I apply for a residence card?
The short answer is: not mandatory in all cases, but it is helpful. The following article explains when which right of residence applies and which official documents are required for residence (as of 2023).
There are many reasons to apply for a residence card. Depending on the length of your stay, you can get through most of the administrative processes such as opening a bank account and buying real estate in Hungary with a passport from the European Economic Area (EEA) plus possibly a registration card, but there are still some advantages of the residence card.
Especially at the beginning of the corona restrictions, foreigners without a residence card were only able to travel to the country with a business invitation. At that time, the value of the card also became clear, since one could at least enter the country if other rules were observed.
In principle, as a citizen of the European Economic Area, you only need your ID or your passport for a stay of up to 3 months in the country, provided that you are not a burden to the Hungarian social system.
The law puts the registration card (Regisztrációs Kártya) before the residence card.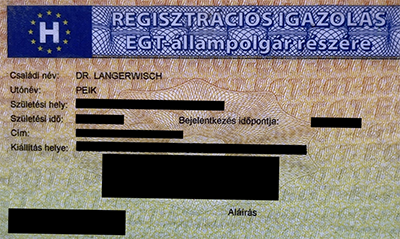 If you stay longer than 3 months in the country, you need a registration. Secondary conditions are gainful employment or financial independence, health insurance, no burden for the Hungarian social systems or state-recognized training as part of a degree or vocational and adult education.
The following evidence and documents must be submitted:
Employment contract, trade license or registration number or proof of job search or proof of education in Hungary
as a family member, proof of a family relationship
or a declaration that you do not want to work in Hungary (e.g. retirees), but that you have sufficient financial resources
Lease agreement including the landlord's declaration of consent or extract from the land register if you own a house or an apartment in Hungary
Bank confirmation of sufficient funds - bank statement is not sufficient
Health Insurance Card
Passport
The government has launched a website in 2023 where you can apply online
https://enterhungary.gov.hu/
. The website works with Hungarian, English and Ukrainian language. We will take over the administrative process for our clients free of charge. The exhibition costs HUF 1,000. The card has unlimited validity but is linked to the reason for your stay. And, you always need the combination of registration card and passport or ID card.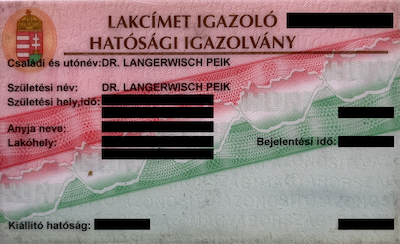 The residence card (Lakcímkártya) has a higher administrative value. With it, the first place of residence in Hungary is proven and recorded in the central register and a personal identification number is assigned. There is a need for a residence card, especially when being assigned to a public family doctor or joining a Hungarian health insurance company. You can also avert the usual holiday home tax in some communities with proof of your place of residence.
Last but not least, the impossible entry in 2020/2021 for travelers without a residence card thwarted some owners of real estate in Hungary.
The same documents must be submitted for the application as for the registration card. It is therefore advisable to apply for both at the same time. The residence card is sent centrally to the residence address by registered mail.
The permanent residence permit, which can be applied for after an uninterrupted 5-year stay in Hungary, is not absolutely necessary. However, at the beginning of the entry restrictions in 2020, it was the only way to enter Hungary for a short period of time.